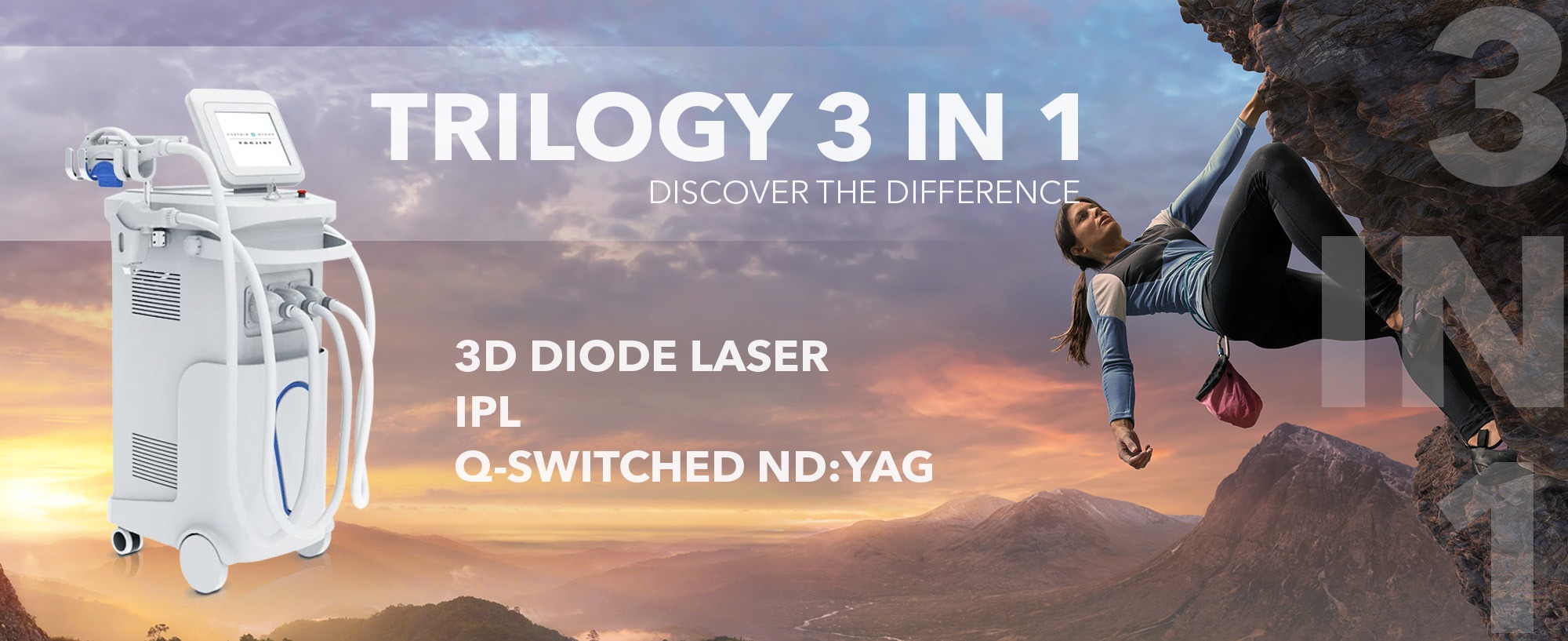 Professional All In One Multi-Function Laser Hair Removal Machine Includes:
Simultaneous release 3D Triple Wavelength Diode Laser,
755nm, 808nm, 1064nm, Diode / ND:YAG,
IPL Technology with Natural Variable Dynamic Pulse Control,
Q-Switched ND:YAG Tattoo Removal,
Quadcore Power Supply System (2023),
Continuous built-in Contact Cooling,
Easy Pre-Programmed Point & Shoot,
Full Body Treatment in 45 Minutes,
Certified Training Included, For All Skin Types Fitzpatrick I-VI,
5 Year Warranty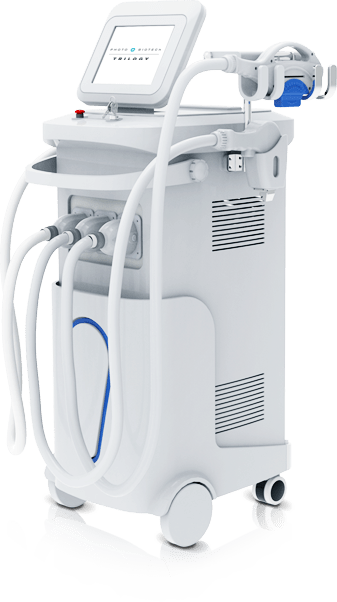 TRILOGY 3 IN 1
COMPLETE TECHNICAL SUMMARY
Original 3D Triple Wavelength Release Diode.
3D Diode Laser Hair Removal Machine for all skin types.

Includes ND:YAG for dark skin & hair

3D wavelengths, 808nm, 755nm , 1064nm simultaneous release laser

Pure contact cooling. Visible Frozen Tip (see image)

Painless -8° Celsius Arctic sapphire crystal makes the treatment painless

Quadcore power supply system

In Motion Glide or Shot by Shot

Full Body Treatment in One Hour

12x20mm spot size (large)

4cm2 spot size (extra large)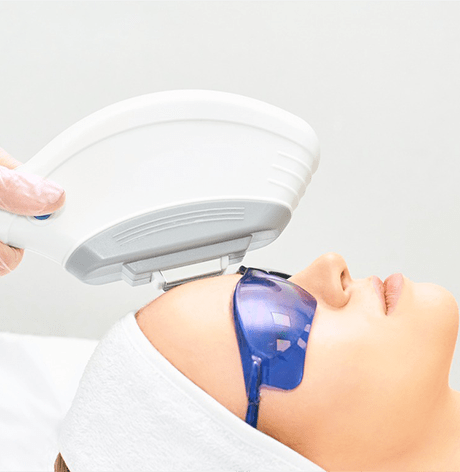 (IPL) Intense Pulsed Light, for epidermal photofacial.

Natural variable dynamic pulse control

Pore Size Reduction • Skin Tightening • Fine Wrinkles • Skin Tone Management

Effective for mild sun damage, freckles, irregular pigmentation and light brown spots.

Photo Dynamic Therapy • Acne Therapy • Vascular Therapy

Hyperpigmentation Therapy • Lip Plumping • Rosacea

Treatments for face, neck, chest, back and whole body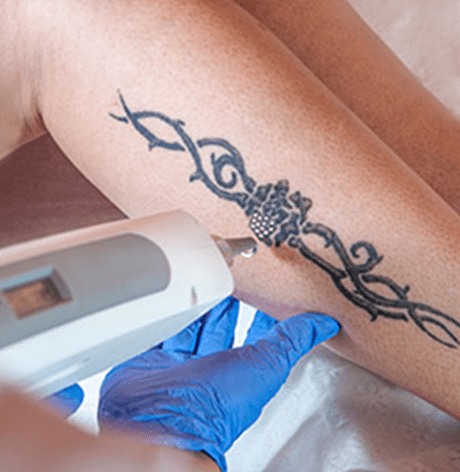 Q-Switched Laser Tattoo Removal
20-30% reduction of tattoo pigments per treatment

1064nm for black, dark blue, dark green

532nm for red, yellow, pink, permanent make-up including lip line

755nm for teal, light blue, light green (optional purchase)

1320nm dermal photo facial, skin rejuvenation, carbon facial, skin tightening, collagen stimulation
Super Hair Removal (SHR): The primary principle behind the 3D diode laser hair removal is selective photo thermolysis (SPT). The matching of a specific wavelength of light, pulse duration, and photo energy to obtain optimal effect on a targeted tissue with minimal or no damaging effect on surrounding tissue. Trilogy's 3D diode laser causes localized damage by selectively heating the melanin, thereby, heating up the basal stem cells in the follicle which causes hair growth. The -8° Celsius Arctic sapphire crystal built-in cooling tip provides comfort and a painless treatment. Ergonomic design for maneuverability for those sensitive or intimate areas and sustained contact cooling is the touchstone of this beautiful machine. Permanent hair removal for all skin tones, hair textures and color. Unparallel to other machines. Our Simultaneous 3D wavelength release technology quickly and permanently removes hair safely.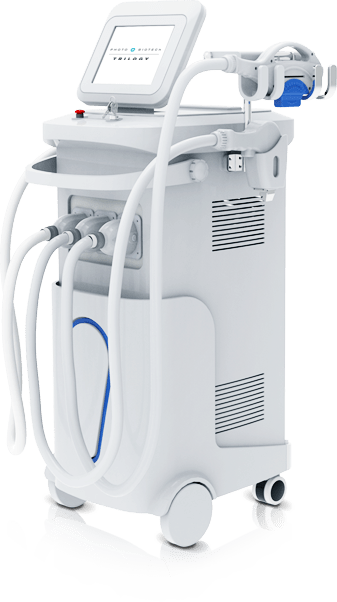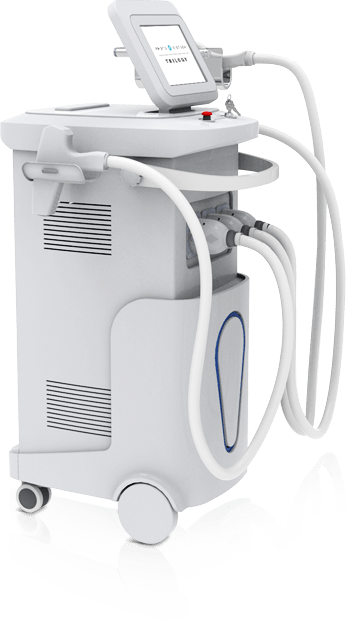 Photo Facial + Face Lift + Acne Treatments
(IPL) Intense Pulsed Light, uses a natural variable dynamic pulse control, also known as the principle technology for epidermal photo-rejuvenation or the photo-facial. IPL can be highly effective for erasing mild sun damage, freckles, irregular pigmentation and light brown spots on the face, neck, chest, back and whole body. IPL treats the skin with quick and powerful flashes of light, the light energy then penetrates below the skin's surface to the epidermis, where the unwanted brown pigment (melanin) lives. The heat breaks down the pigment into tiny particles, which either rise to the skin's surface or are flushed out by the body's lymphatic system. This technology utilizes German Made Heavy Duty Cycle IPL Energy Source. Full Spectrum wavelengths ranging between 430nm - 1200nm. Complete Anti-aging and restorative treatments. Tighten, lift, correct and smooth folds and wrinkles.
Tattoo Removal + Permanent Make-up Removal + Spot Removal + Carbon Facial Peel
Tattoos consist of thousands of particles of ink pigment suspended in the skin. While normal human growth and healing processes will remove small foreign particles from the skin and the body, tattoo pigment particles are permanent because they are too large to be removed naturally. Q-Switch ND: YAG laser treatment causes the tattoo pigment particles to heat up and fragment into smaller pieces. These smaller pieces are then removed by the lymphatic system. Remove tattoo pigment by up to 30% per treatment. Erase permanent make up, freckles and epidermal lesions. Treat the deep layers of the skin with the Carbon Peel Facial to stimulate collagen production, which in turn produces firmer, plumper skin, reduces fine lines and wrinkles, and leaves skin feeling tighter and glowing.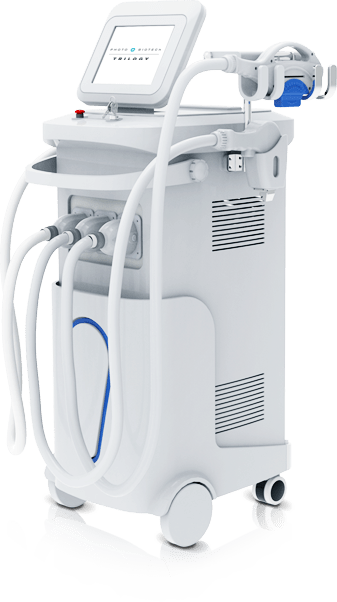 TRILOGY PERFECT FOR NEW BUSINESSES
OR AN EXPANDING BUSINESS
The fundamental concept of TRILOGY 3in1 is designed to combine the three most complex and in-demand technologies in one system. Perform true laser hair removal, facial / skin therapies and spot/tattoo removal. TRILOGY is a complete aesthetic and therapeutic treatment business machine.
Each applicator is a unique technology function and compliments cross selling combination treatments. Create unique treatment protocols for clientele and their specific epidermal/dermal requirements while strengthening new monetization potential and a strong ROI.
TRILOGY synergizes multi-disciplinary applicators to prescribe specific treatments for every skin condition, age, and gender. Expanding the demographic of clientele, creating retention business, and further supporting growth activities.
Use this ideal technology for optimal efficacy and maximize the treatment value from the primary and secondary results with all these essential range of treatments for your Spa.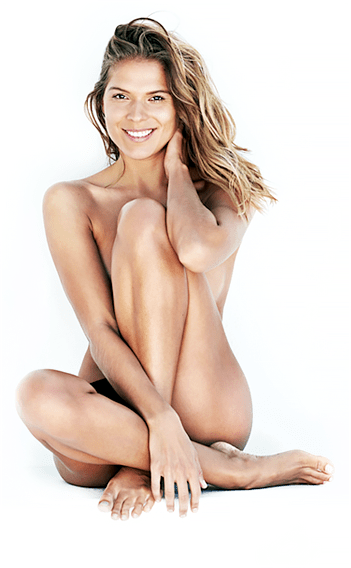 Laser Hair Removal Market $2.1 Billion
Laser hair removal market size is valued at $930 million in 2022, and is projected to reach $3.6 billion by 2030, growing at a CAGR of 18.4% from 2022 to 2030.
Tattoo & Spot Removal Market $4.34 Billion
Tattoo Removal Market was $4.34 billion in 2022. Estimated to reach $12.15 billion by 2030, representing a CAGR of 12.1% throughout the forecasted period of 2021-2030.
Skin And Face Treatments 54.6% Share Of The Market
The facial treatment segment dominated the market with a share of 54.6% in 2022. Laser, IPL, RF, Fillers and Therapeutic Technologies lead the way.
TRILOGY is very easy to use, mostly it's point and shoot technology. Within 90 minutes you can get going. A snapshot of the training provided includes:
Certification or licensed training

Science & mechanisms of action for all three modalities

Operator and patient safety
General patient/operator communication

Basic marketing deployment
Photo Biotech backs our products and customers with:
5 year warranty
comprehensive training and certification
professionally designed extensive marketing kit
The informative material will 'kick-start' and introduce this professional hardware to new and existing clientele.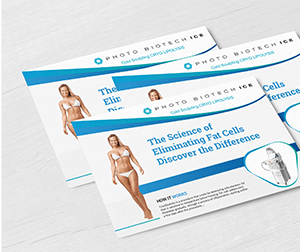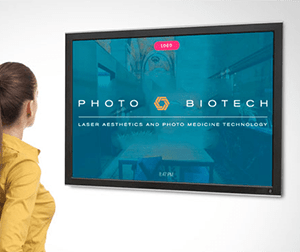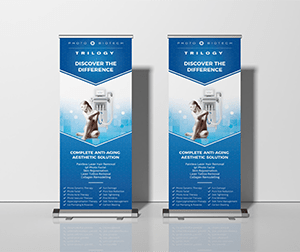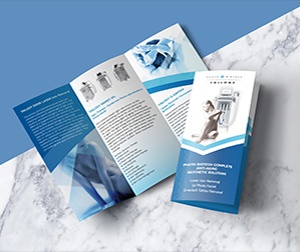 Heavy Duty Commercial Grade


20,000,000 Shot Count System

Flexible Financing Available
from $949 a Month
The science of youthful healthy skin.
Minimize the signs of aging.