What Is Photo Biotech Treble?
Photo Biotech Treble® is a non-invasive body contouring treatment for circumferential and cellulite reduction*. Photo Biotech Treble enables you to safely achieve a toned, contoured and smooth-shaped silhouette in typically 3 treatment sessions (single treatment protocol is also available).
Which areas can be treated with Photo Biotech Treble?
Target areas under chin, neck, arms, thighs, buttocks, flank and abdomen. Most patients see gradual and cumulative results throughout the treatment protocol.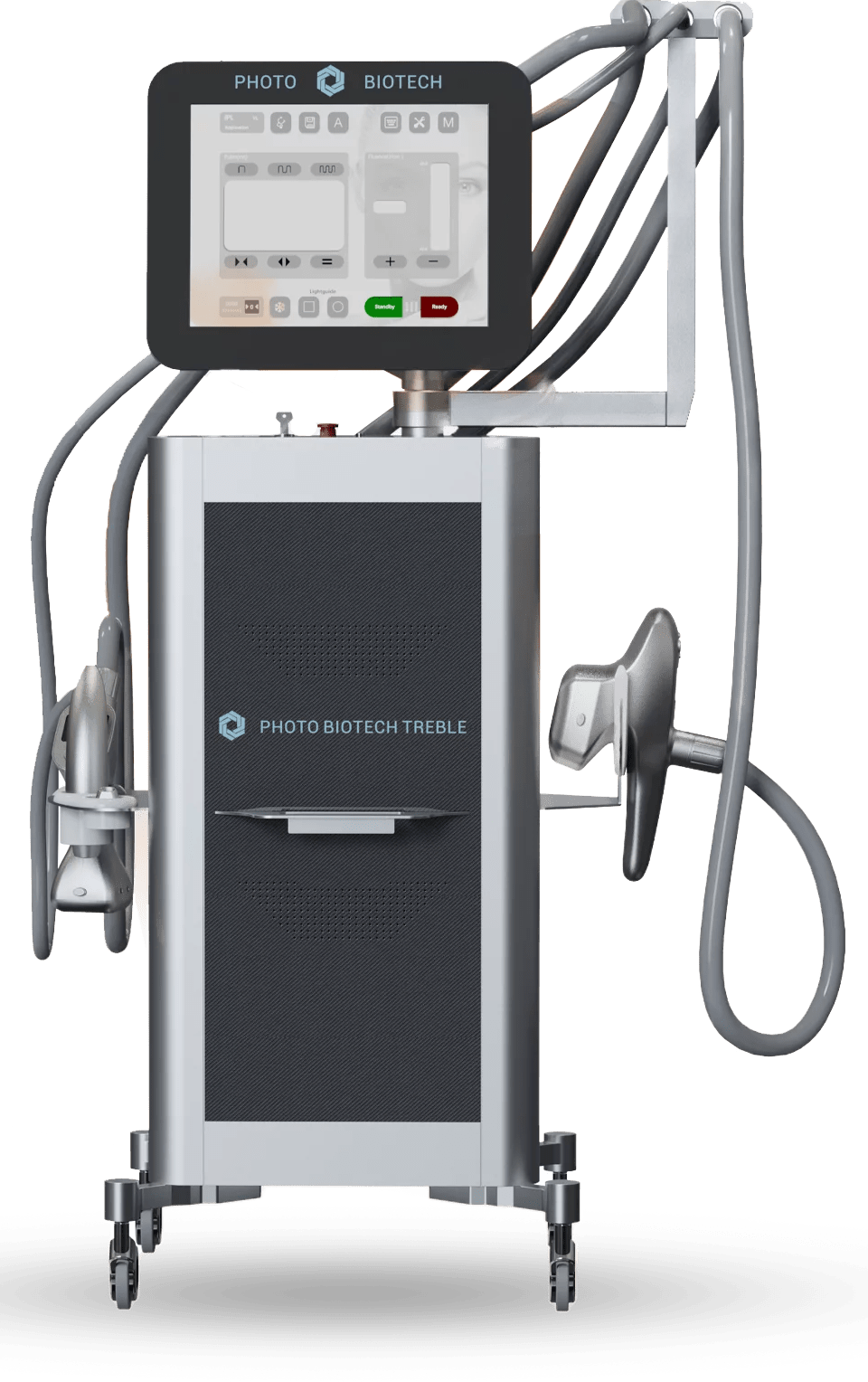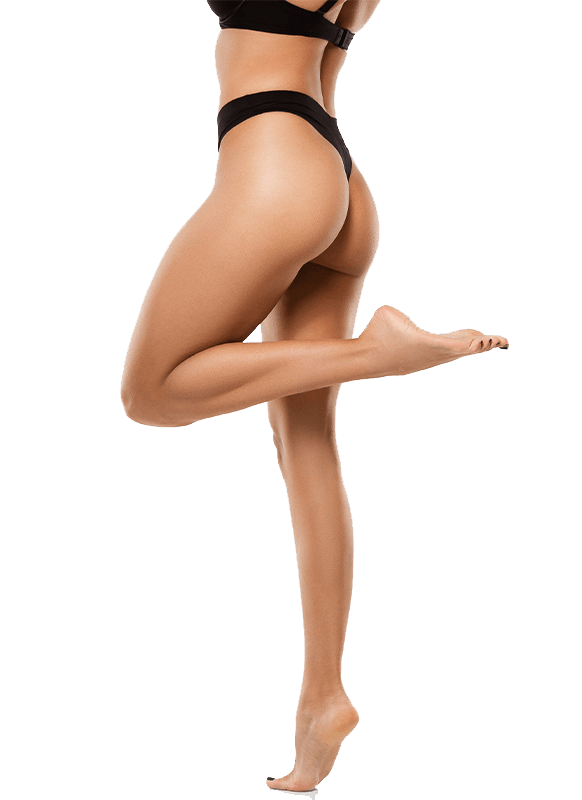 Treble Mechanism Of Action
Extreme Cellulite Managment
Photo Biotech Treble technology combines Bi-polar Radio-frequency (RF), Infrared Light Energy, plus Negative Pressure Vacuum and Mechanical Massage to deploy targeted heat to adipose tissue. The combination of these energies increases the metabolism of stored energy, increases lymphatic drainage and reduces or shrinks the size of the actual fat cells and fat chambers. The net result is the smoothening of skin's surface with a noticeable reduction in cellulite.
The vacuum elevates the targeted tissue bringing it closer to the energy source. Infrared light (IR) directly heats the targeted area.

Bi-polar radio frequency (RF) energy safely guides heat evenly throughout the targeted area, so that it heats faster without damaging the skin.

The synergistic combination of infrared and conducted RF energies increase the oxygen intracellular diffusion by heating the skin.

Vacuum and specially designed rollers manipulate and smooth out the skin to facilitate safe and efficient energy delivery.

Near-infrared laser 940nm enhance flexibility of skin and collagen reconstruction

NIF Near Infrared energy penetrates / heats the tissue to 5mm depth

RF energy penetrates / heats the tissue between 5mm-15mm depth.
THE RF Wavelength Specturm

Significant Industry Data
Projections in the Global Cellulite Treatment Market
North America shows the strongest prospects with an expected market value of over US$ 2.1 Billion by the end of 2028, growing at an impressive CAGR of 8.1% during the forecast period.
Sought after aesthetic treatments get patients in the door. Get a rapid ROI with your Photo Biotech technology and offer more treatments to increase profits. Use this technology for optimal efficacy and maximize treatment value from the immediate and secondary benefits of this ideal technology
What Is The Photo Biotech Treble Procedure Like?
Most patients find Photo Biotech Treble comfortable and describe the treatment as feeling like a warm deep-tissue massage. The treatment parameters are easily adjusted to ensure a comfortable treatment experience. It is normal to experience a warm sensation for a few hours after your treatment. Some patients report a pinkish appearance at the treatment area that may last a few hours post treatment, and skin may appear pink for several hours.
Clinical Guide To The Hand-pieces
Cellulite treatment areas could be on the neck (under chin), arms, thighs, buttocks, flank and abdomen. Most patients see gradual and cumulative results throughout the treatment regime.
Biological Impact of treatment – Increased metabolism leading to demarcated desired anabolic and catabolic alterations at predetermined skin components and depths.
Treble technology causes deep heating of the fat cells, their surrounding connective tissue and the underlying dermal collagen fibers. This type of efficient heating and vacuum stimulates the growth of new and better collagen and elastin which results in localized reduction in skin laxity, body volume, and an overall improvement in skin structure and texture.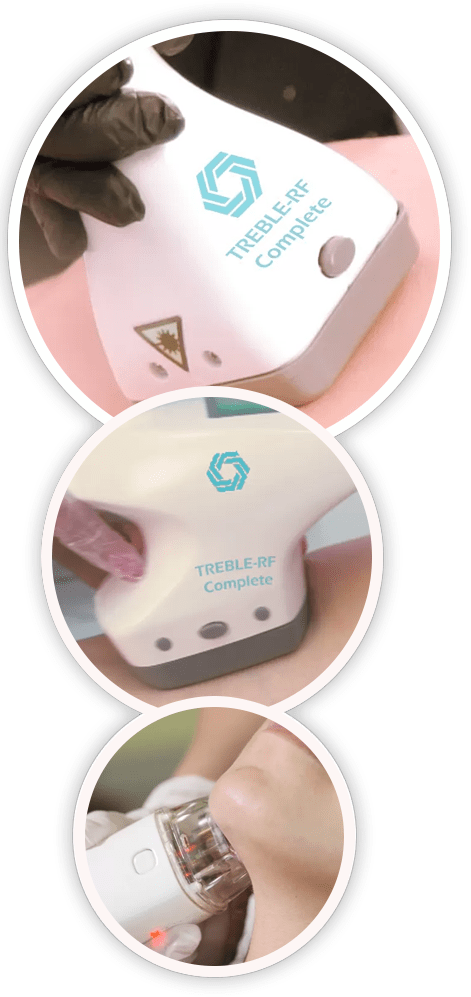 Photo Biotech backs our products and customers. With a 3 year warranty and included comprehensive training and certification Photo Biotech extends further customer support with an extensive marketing kit professionally designed to illuminate the superior technological aspects and highlight the optimal results. The informative material will 'kick-start' and introduce this professional hardware for new and existing clientele.
HD TV with video loop demonstating the treatment

TriFold brochure to place the reception desk

4x6 post card for mail drop (direct marketing)

Content access: images and files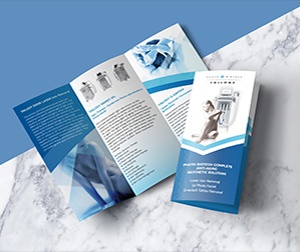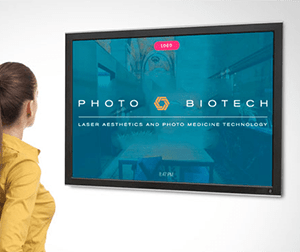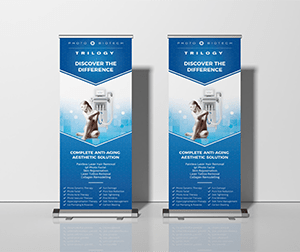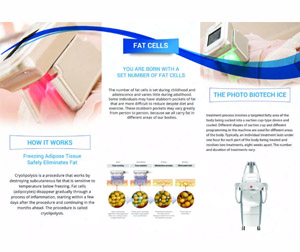 Heavy Duty Commercial Grade


Ultra Fast 10 Minutes per Zone

Its name makes it sound like a medical condition. But cellulite is nothing more than normal fat combined with other tissue, in chambers, beneath the skin. The fat appears bumpy because it pushes against connective tissue, causing the skin above it to pucker.
Cellulite isn't harmful. Many people, though, would like to get rid of it because of the way it looks.
Having cellulite doesn't mean you are overweight. Even thin people can have it. If you are overweight, however, losing weight may reduce cellulite.
Cellulite is more common among women than men. If other women in your family have cellulite, there's a good chance you will too.
Other factors that influence how much cellulite you have and how visible it is include:
Cellulite (also known as adiposis edematosa, dermopanniculosis deformans, status protrusus cutis, gynoid lipodystrophy, and orange peel syndrome) is the herniation of subcutaneous fat within fibrous connective tissue that manifests topographically as skin dimpling and nodularity, often on the pelvic region (specifically the buttocks), lower limbs, and abdomen. Cellulite occurs in most postpubescent females. A review gives a prevalence of 85%-98% of women, indicating that it is physiologic rather than pathologic. It can result from a complex combination of factors ranging from hormones to heredity.
The causes of cellulite include changes in metabolism, physiology, diet and exercise habits, sex-specific dimorphic skin architecture, alteration of connective tissue structure, hormonal factors, genetic factors, the microcirculatory system, the extracellular matrix, and subtle inflammatory alterations.
Hormones play a dominant role in the formation of cellulite. Estrogen may be the important hormone to initiate and aggravate cellulite. However, there has been no reliable clinical evidence to support such a claim. Other hormones, including insulin, the catecholamines adrenaline and noradrenaline, thyroid hormones, and prolactin, are all believed to participate in the development of cellulite.
There is a genetic element in individual susceptibility to cellulite. Researchers led by Enzo Emanuele have traced the genetic component of cellulite to particular polymorphisms in the angiotensin converting enzyme (ACE) and hypoxia-inducible factor 1A (HIF1a) genes.
Several factors have been shown to affect the development of cellulite. Sex, race, biotype, distribution of subcutaneous fat, and predisposition to lymphatic and circulatory insufficiency have all been shown to contribute to cellulite.
Flexible Financing Available
from $949 a Month
The science of youthful healthy skin.
Minimize the signs of aging.